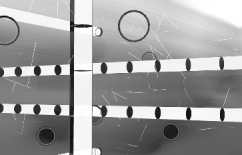 What makes me dance in a club is rhythm, but what makes me really happy while dancing is great sound. I like the experience of being surrounded by a massive wall of sound which at the same time is highly defined and structured.
Monolake Live Surround is a ongoing research project, starting in early 2009.
It is a common notion that in (electronic) dance or club music sound simply comes from all directions, and that even the concept of having a stereo signal is unnecessary luxury, since people who dance only care about the beat, a certain volume and maybe a bit about an acceptable frequency-response of the PA.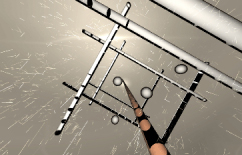 Extreme and static panning effects would distribute important parts of a groove only to some of the speakers in a club. This would not work well; in a typical club situation the audience is theoretically located everywhere in between the speakers and not only in a perfect 'sweet-spot' in the center.
However, club music evolved, and so did modern PA systems. If music production can deal with subtile yet noticeable details of space and depth, why should this amount of detail not be transmitted to the dance-floor? It is obviously true that what keeps the dancer moving is the beat, but what creates a sense of something big, what overwhelms people is also the sound of the music.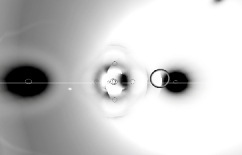 The idea of music in a club is to surround the dancer, to provide the dancer with the sensation of being located right at the center of the music. A DJ has to play back existing sound sources with pre-recorded club music. All those sources are stereo: vinyl, CD, mp3 files etc... Also the DJ is not in a good situation to shape sound in a careful manner, since their listening situation with monitoring plus headphones has nothing to do with what actually goes on at the dance-floor. A known and not really addressed problem of DJ culture that leads often enough to bad sound in a club.
As a live performer one does not rely on stereo sources, but can construct a scenario where certain important elements are distributed to four or more individual channels if the PA supports it. This opens dramatic possibilities for creating a concert experience beyond the DJ setup. And beyond home listening, too.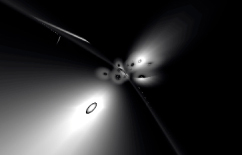 Monolake Live Surround is about the exploration of those possibilities. There is not much history in multichannel club-sound yet, no defined set of rules. Unlike in cinema, where the usage of 5.1 surround became a standard, and sound designers learned how to use it creatively, in club-music there is no 'common practice' . Monolake Live Surround tries to find out what works and what not, and how to gain control over the artistic possibilities of surround in a club or in a concert situation. What kind of effects do work? What kind of gestures are too subtile or too simple and obvious? How to solve the technical issues of the control of much more parameters in realtime? How to compose club-music with multiple channels in mind? How to deal with monitoring on stage?
Monolake Live Surround tries to find answers. Answers to technical questions and, much more important answers to artistic questions.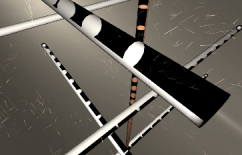 As a nice coincidence, the beginnig of the Monolake Live Surround concert series marks also the beginning of a collaboration with visual artist
Tarik Barri
. His realtime generative video is an integral aspect of Monolake Live Surround. The image generation is partly controlled by Tarik Barri as a live improvisation, and partly directly the result of transforming musical information into images. The technical and artistic aspects of this collaboration are also part of the Monolake Live Surround research project.