Multichannel Video Installation [2010]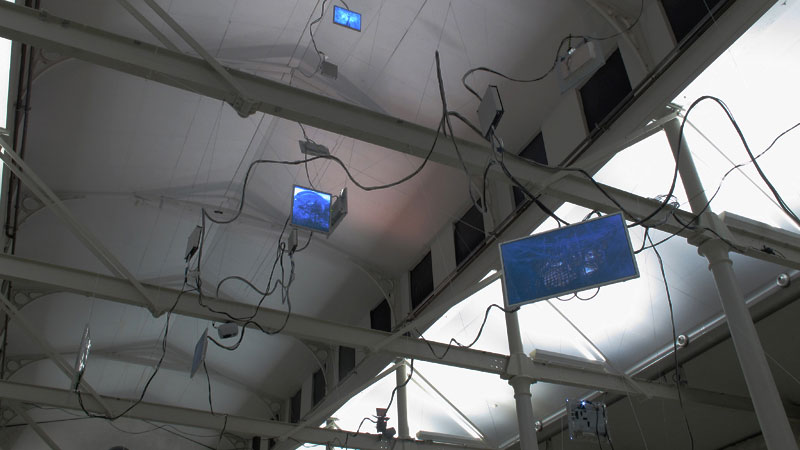 Multiple dismantled video displays, computers and loudspeakers are suspended from the ceiling, evoking associations of a mechanical yet organic and seemingly alive organism. Stills from abundant industrial sites and wide empty landscapes slowly merge and transform, creating an endless stream of perfectly believable realities and obscure contradictions of geometries, perspectives, shapes and textures.
Simultaneously, a computer-generated soundscape sometimes matches the visual states, sometimes contrasts them. Transition Machine creates an infinite number of unpredictable variations, a slowly pulsating and breathing post-apocalyptic entity.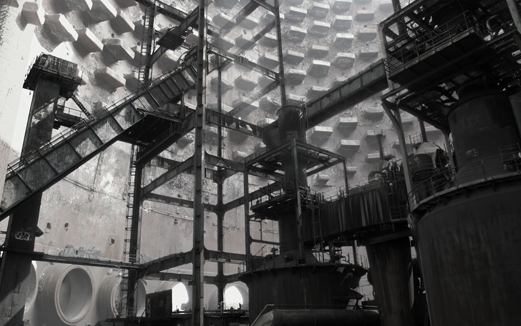 Transition I
Many of the photos used for Transition Machine I took at a former iron blast furnace in Duisburg, Germany. Mining and steal industry have been most important economic factor in this area for centuries. Now this industry is gone. The giant steel constructions are getting rusty and falling apart. Some of them are transformed into cultural spots, concert halls, exhibition centers. Most of them have been torn down.
Transition II
My mother used to work at a photographic lab when I was young. I still remember the magic of the darkroom: very soft orange red light, the smell of chemistry, and structures emerging out of nothing, in a slow magical process. I found myself staring at the photo paper, fascinated by the transition from nothing to structure.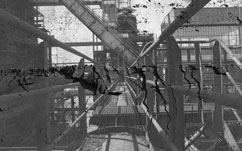 Transition III
I observe the shadow the sun paints on the wall, watch it slowly changing. It seems static but obviously its not, the earth is rotating around its own axis in 24 hours. I like slow repetition.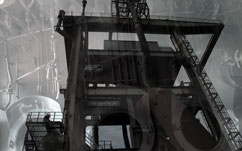 Light
Scattering reflections on water, rays of light piercing a room thru a little hole in the ceiling, the magic of cinema, the magic of the photographic image, the magic of more than a million microscopic glowing dots in red, blue and green on a TFT.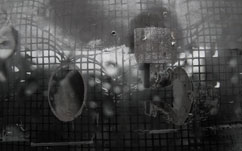 Process I
I set up a process. I know how long it will take to fade from one image to another. I want several screens to act slightly different in this regard. That's simple. I just add some random variation and my machine becomes alive.
Process II
There is a limited number of source images, but I don't know when each of them will appear and on which screen. I just define a probability and observe what comes out. I will never be able to experience all possible combinations, and no one else will ever be. I like this. The machine can still surprise me.
Process III
In regular intervals the machine takes snapshots of the currently displayed images. Most likely those snapshots will show transitional states between two photos. The snapshots are saved and become part of the pool of possible images. The longer the installation runs, the more likely it becomes to get layers of already layered images and things get visually more complex. But there is a technical limit. Each layer means a loss of information. The layers of layers of layers will look bad and noisy. Some sort of digital decay. Reminds me of the slow erosion of old industrial machinery.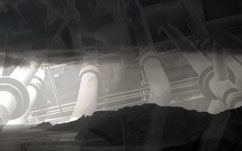 Sound
It is all based on recordings I took at various abundant industrial sites. Dripping water, odd noises from still intact heating systems, metal on metal. I created a set of overlapping long loops, never truly repeating, diffused thru multiple speakers. The sound is meant to act as a perfume, as an atmosphere. It is not meant to be music, just carefully crafted background.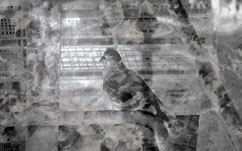 Time
Slow. Timeless. Endless. No start no end. Installations should not demand a specific attention span from a visitor or a defined entry point. Every moment is a good moment. You will not be able to experience all possible transitions, so relax. Come and go when ever you like. The machine will be there for you.
Technology
I like working with computers. I can define my own structures, and the limit is my imagination and my technical skills. Both can be improved if I work hard enough and there is always something to learn. I finish one work and I have ideas for ten new ones. When unsung the computer for art, the office machine disappears and what is left over is the pure joy of working with a possible huge complex structure. Or a set of them, talking with each other. I programmed a server for this installation, it tells all the other computers what to do. One single click with the mouse and all screens change. A strange feeling of power is overcoming me, each time again when this happens. How does it feel to operate the control panel of a huge steel factory and a click on a button makes tons of ore falling down fifty meters into the fire of hell?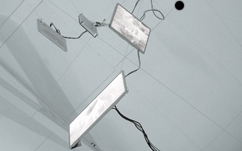 Transition Machine is shown as a solo exhibition at FARGFABRIKEN, Stockholm, Sweden.
October 30 2010 till January 9 2011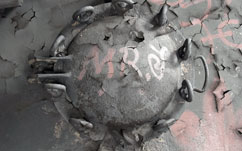 Transition Machine is based on a realtime image processing software which I developed originally for the installation Traffic and refined further for this work.